The Preamble
Here is a quick discussion on the Aliens Space Marine Apone (Series 13) and Bishop (Series 3) NECA action figures.
NECA Aliens Space Marine Apone (Series 13)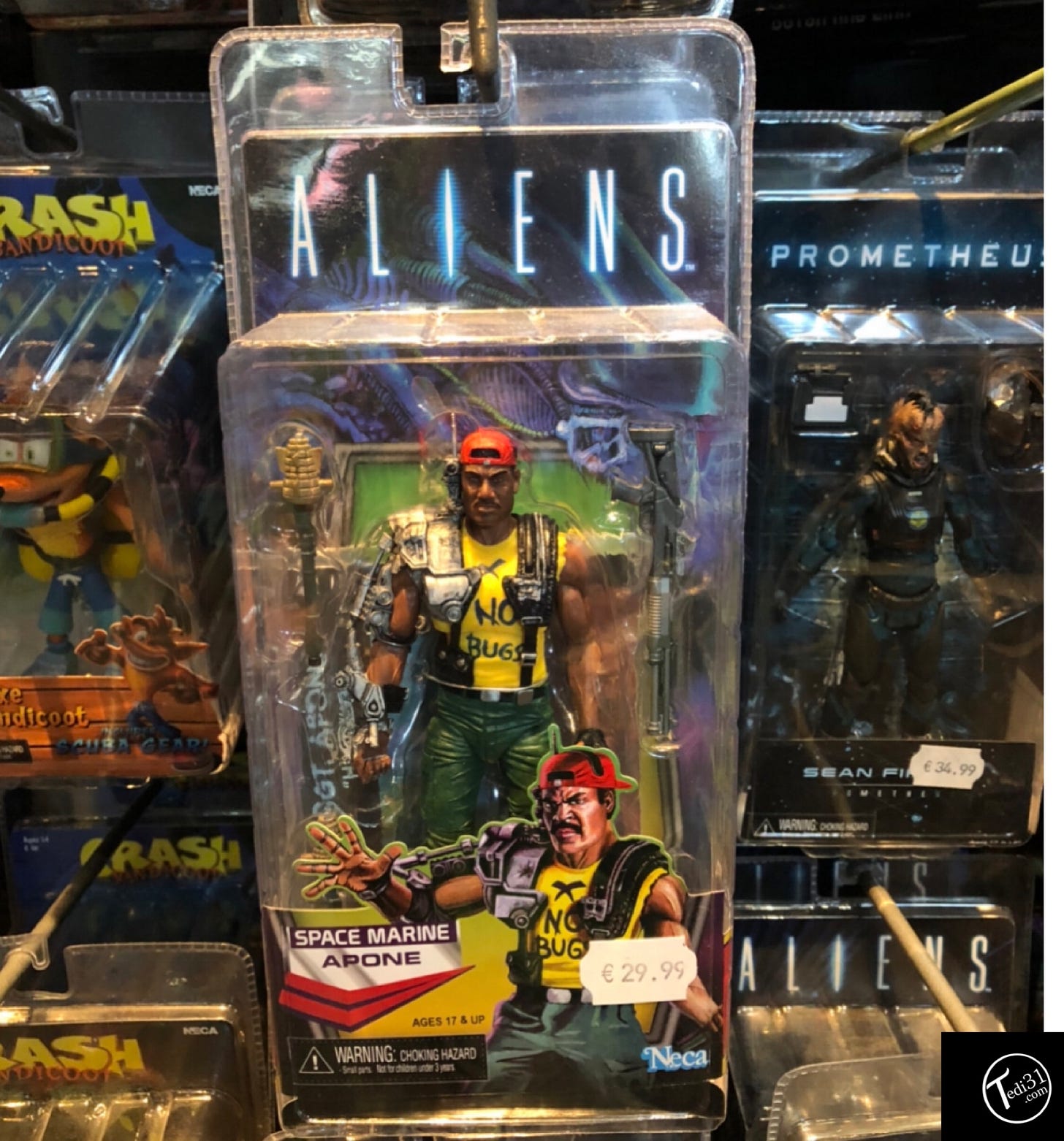 September 23, 2019.
The first time I saw this Space Marine Apone was in (of all places) Album Comics in Paris, France. I stumbled upon the comic book store during our tour group's stop at Notre-Dame de Paris. The cathedral—famously known as the literary site of The Hunchback of Notre Dame—was still closed to the general public for extensive restorations after it had be ravaged by a fire in mid-April.
By now, you guys must know about my love for the Aliens (1986) movie and Colonial Marines. Normally, this would be a no-brainer purchase but I passed since this version of the Gunnery Sergeant as it wasn't part of the movie line that I had been collecting. Instead, this colourful Space Marine Apone was based on a 90's Kenner Aliens' Expanded Universe. (See photo above).
Postscript: A couple of months after I had left Space Marine Apone back in Album Comics, I found out that the actor who played him, Al Matthews, had passed away and prior to his death was against allowing his likeness to be used by NECA. (Needs to be confirmed).
Translation: This would likely be the only way that Colonial Marines collectors will ever have a legit Sergeant Apone in their respective collections.
I immediately began sourcing out for the figure but only one store locally had it in stock. They were willing to let it go—as a set—along with two Xenomorph warriors that I didn't care for.
The search continues.
NECA Aliens Bishop (Series 3)
In the Alien movie universe, Lance Henriksen has played several versions of his Bishop character: The android/artificial person in James Cameron's Aliens (1986) and David Fincher's Alien 3 (1992), the unnamed designer who built the android in his likeness [Alien 3], and Weyland Industries CEO Charles Bishop Weyland in Alien vs. Predator (2004).
In 2014, Bishop was released as part of the NECA Aliens Series 3 wave and I found little incentive to pick it up then. But over time, as the ranks of my Colonial Marines grew, I knew that I had to eventually pick one up—just as long as it was at a price that I was happy with.
Which brings us to…
Birthday Gifts 2020
August 25, 2020.
With not a lot of local toy stores in Manila carrying NECA Aliens figures, I decided to pick up the lone Bishop figure that was still hanging on the pegs over at Big Boys Festival Mall for my upcoming birthday. Since their NECA figures were situated overhead, I asked the saleslady if there were possibly other Aliens figures hidden in the back of the other pegs.
Turns out there were. Four in fact—including a Space Marine Apone! (At cost!)
Now…all I need is another Private Frost body…swap their heads…and Bob's your uncle!*
* I first heard this phrase uttered by Simon Pegg's character in Mission Impossible: Ghost Protocol [2011]…been waiting for a chance to use it ever since.)
About
Tedi Villasor is—among many things—an indie comic book writer (Lindol, OBIsessions) based in the Philippines.
Official Website | Instagram | Pinterest | YouTube | Twitter | Facebook